A Hypothetical Text Thread with Will Richardson: Unlearning Teaching
Reading, Technology and Me:
The 21st Century is transforming the way that our students are learning, the way we are teaching them and the way that we are interacting with colleagues.  Education is evolving and so is the way we as life-long learners dialogue with the academic texts we read.  I recently read Will Richardson's Learning on the Blog, and after a semester of learning to dialogue with the pedagogical texts of the leading authors in education I wondered to myself, what would a conversation with Will Richardson look like.  How would I communicate with him?  What advice would he give me, a novice teacher in the field?  Surrounded by technology and attached to my iPhone, I concocted a two way dialogue.
Warning:
The following text message thread is an interpretation of my reading from Learning on the Blog: Unlearning Teaching, by Will Richardson.  The green text boxes are paraphrased quotes from this section of the reading and the green text messages are my dialogue with that text.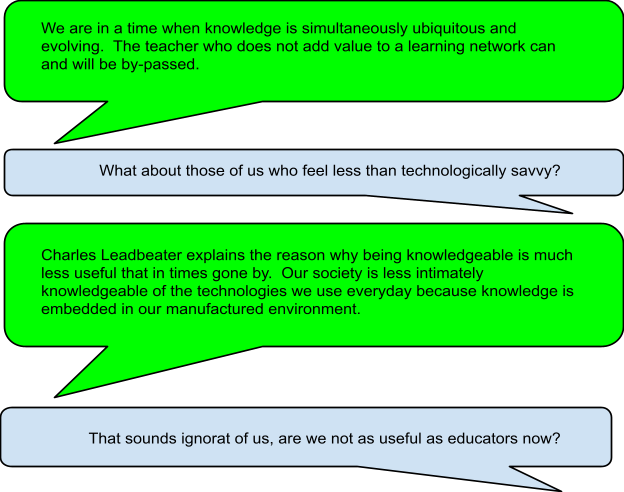 An Afterthought:
While going through this blogging process I realized this dialogue with the reading was not only educational for myself but the process of creating a text thread was really fun for me.  I am thinking of using this in my classroom...